So, Thanksgiving turned out to be a rather nice holiday. I didn't go home this year, so I stayed here in Madison and had dinner with some friends from my department. It was a nice evening with good company and great food. The hostess requested that I make my infamous banana cream pie. It's actually my grandmother's recipe that my momma taught me to make. Here's how it turned out: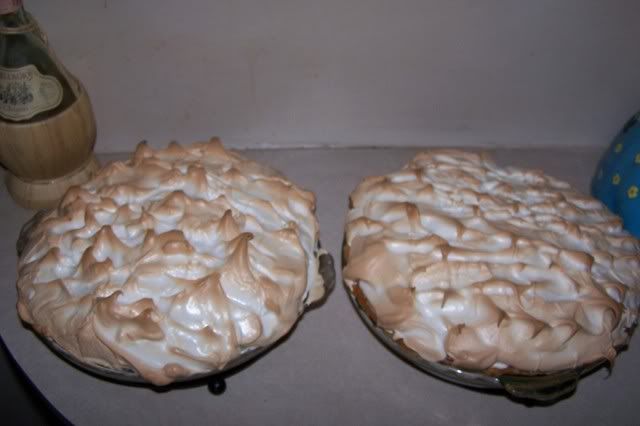 Other than that, the semester is quickly winding down, and much too fast, I might add. I want to get this damn dissertation proposal finished and get my ass in gear so I can get the hell out of here. I'm so burned out of being here in Madison, and there's no way to alleviate the situation unless I finish this damn dissertation, defend it, and get a job so I can get the hell out of here.
I'm often asked where I want to go when I finish my PhD. Honestly, I don't have much of a choice in the matter. There are so few French medievalist positions, and they are highly coveted, so I will more than likely have to settle for a generalist position. That's fine as I knew that going into the game. However, the job market is national, not regional or local, so I have to be willing to move almost anywhere. A friend of mine is applying for a job in Laramie, Wyoming, and she tells me that it's a position that would suit me well. I'm like, no way in hell babe, that's where they string up us queers on fences. So, I do have some preference as to where I'd like to go. Ideally, I'd end up in some mid-size college/university town. I really don't want to live in California, Chicago, or NYC--it's just too damn expensive and I'm just a small town farmboy at heart.
I'm also asked what type of position would I like--do I want an appointment at a large research-orientated facility, or do I want to teach at a smaller undergraduate institution where the focus is teaching. They both have their advantages and disadvantages. The large research institution is more prestigious and pays better, and there is a better change of playing the field and getting your name known in your particular academic field. The drawback is that these positions are very difficult to come by for a medievalist, highly competitive, and the focus of your work is research, and your teaching is secondary. I did my Bachelors at a smaller liberal arts college, and I always said I'd like to teach at a place like that. However, the teaching loads at these schools is absolutely crazy, and there's almost no time for research. Therefore, it's harder to make a name for yourself and break into the larger research universities if you want to leave the smaller colleges and universities. Also, the pay is just dismal. You accrue a lot of debt while pursing a PhD, and a job that only pays 35K isn't going to pay the bills.
So, where do I want to end up, and what do I want? The answer is simple: I'll take whatever I can get! Ideally, I'd like to end up at a university like Notre Dame where both research and teaching are equally important. Of course, I don't necessarily want the gay hellhole of Notre Dame with its super-conservative atmosphere, but I'd like to teach at an institution that places equal importance on academic research and teaching.